Am I the only Artichoke lover?? It's in my top 3 veggie every summer! I love to create new recipes with the juicy flower.
Here I created a delicious dip that is great with basically everything and married perfectly with the roasted potatoes.
What's your favorite artichoke recipe?
ARTICHOKE DIP Potato Boats
Serves 4-6 people
300g Tofu cream cheese (recipe in the comments)
100ml plant milk(I used cashews)
250g artichoke hearts, chopped (frozen or canned)
2 handfuls fresh spinach(optional)
1 shallot, chopped;
1-2 garlic cloves, minced
1-2 tbsp olive oil
1 Thyme stem
Salt and pepper to taste
6 medium potatoes(or 10 small)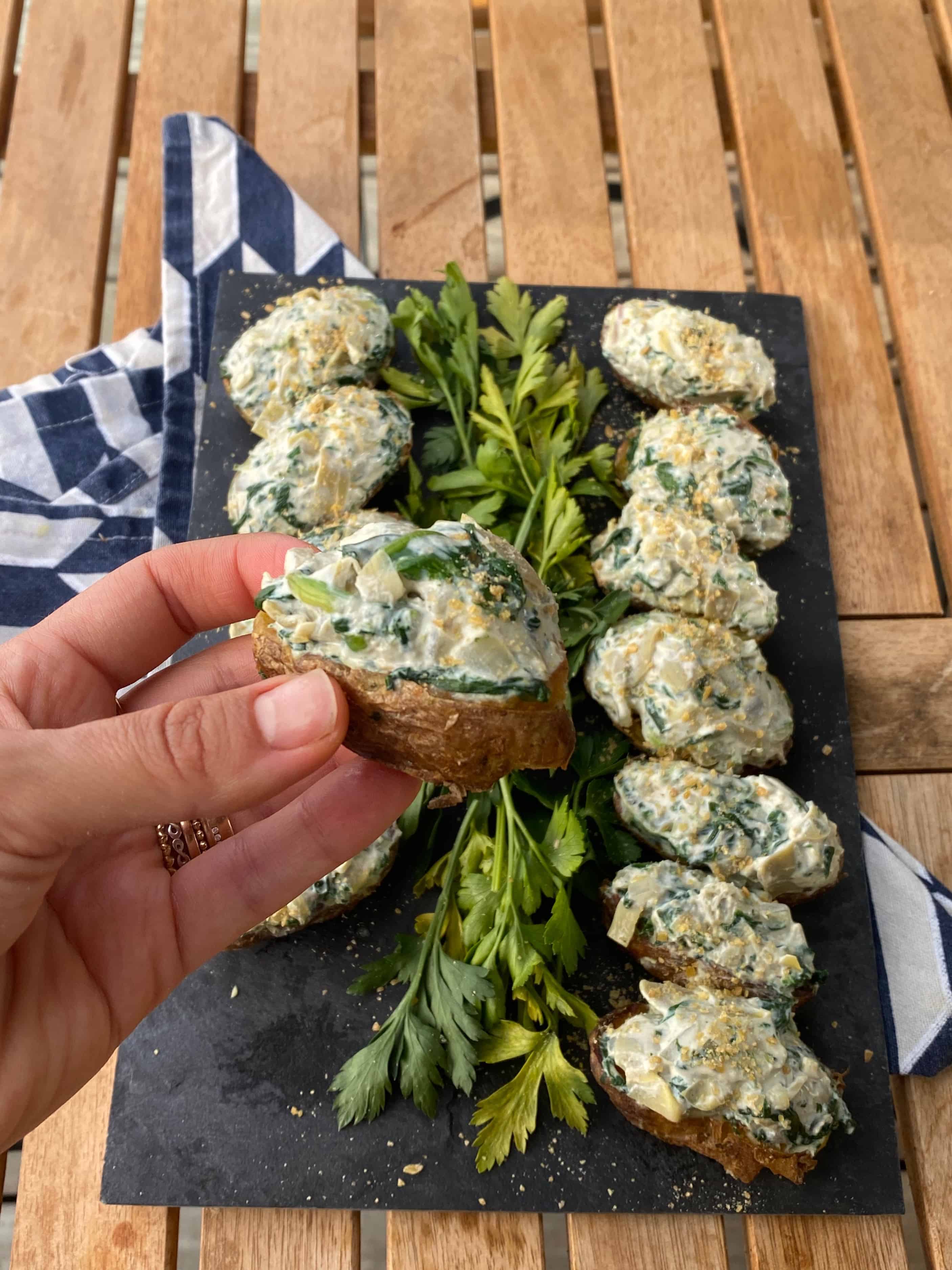 HOW TO:
Heat a frying pan with a drizzle of olive oil and fry the garlic and shallots for about 3 minutes;
Add the chopped artichokes and fry for 5 minutes;
Add the plant milk and cream cheese
Turn off the heat and add the vegan cream and plant milk, mixing well until completely incorporated;
Store it in the fridge until it's time to use;
Pre-cook the potatoes in boiling water for about 10 minutes;
Cut each potato in half, place it in a baking tray and sprinkle some salt and olive oil;
Roast at 200°C for about 20/30 minutes;
Fill each potato halve with the artichoke dip and sprinkle some vegan parmesan on top if you wish.
Vegan Cream cheese
WHAT YOU WILL NEED:
Cream Cheese:
300g firm tofu
1 tbsp neutral coconut oil
1 tbsp olive oil
1-2 tbsp nutritional yeast
1 tsp mustard
1 tsp white miso paste
¼ teaspoon salt
Juice from ½ lemon
HOW TO:
Blend all the ingredients together in a small food processor for about 1-2 minutes until it becomes a really smooth thick cream;
Store it in the fridge for about one week