I called pizza, you can called taste fine or give any other name to this healthy delicious version of the Italian so loved Pizza.
You feel like pizza but you don't want to feel heavy? You don't know how to add more veggies and nutrition to your favorites comfort foods?? Try the recipe and let me know what you think! I am pretty sure you will not regret!!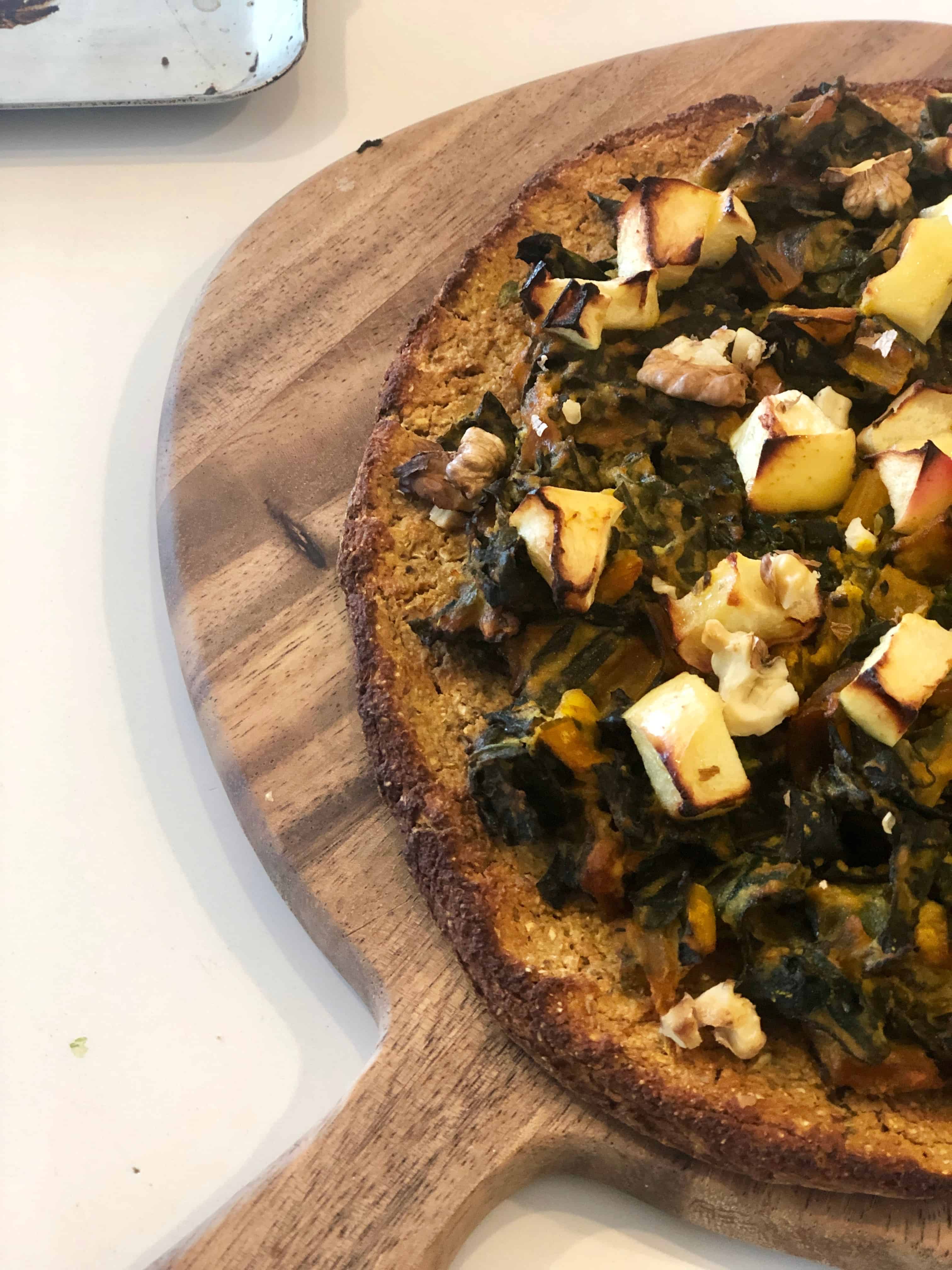 WHAT YOU WILL NEED:
for 2 people
CRUST:
250g cauliflower(or cauliflower stalks)
60g flour(I used 30g almond flour + 30g chickpea flour, use the ones you like, prefer)
15g corn starch(I used tapioca starch)
1 tablespoon ground flax seeds
1 tablespoon baking powder
1 teaspoon nutritional yeast
½ teaspoon salt
Chard Ricotta:
1/2 cup almond Ricotta(check this recipe or if you prefer, use traditional ricotta)
2 garlic cloves, mashed
1 onion, sliced
1 swiss chard bunch, sliced
1/2 teaspoon dried rosmary
1/2 teaspoon dried thym
1 handful chopped parsley
¼ teaspoon salt
Toppings:
1 apple, chopped in cubed
2 tablespoons walnuts
Drizzle of olive oil
HOW TO:
Cut the florets or stalks of the cauliflower in small florets and place it in a food processor. Pulse for a few seconds until it becomes a "flour" but not too long that it becomes a paste. If there is chuncks of cauliflower, scrap it down in the food processor and blend a few seconds more;
Transfer the cauli "flour" to a large bowl and combine all the other ingredients with the hands. If you have a large food processor you can also mix everything in for a few seconds in pulse until it becomes a dough;
Open the "pizza" dough with the hands over a baking paper in a oven proof tray and bake It in pre-heated oven at 170°C for about 40-50 minutes.
Meanwhile, heat a frying pan with one tablespoon of olive oil and fry the onions and garlic  with the salt for 3-5 minutes, until it sweats. Add the herbs and the chopped chards, give it a stir and cover the pan. Let it simmer in medium heat for about 5 minutes;
Add the ricotta and stir really well. Cover the pan and let it simmer for about 2 minutes. Adjust the salt and add the chopped parsley;
Top the pizza with the Chard Ricotta and some apple cubes and bake it for 5-10 minutes at 180°C;
Drizzle some olive oil and enjoy this delicious healthy pizza.
Don't forget that leftovers can be frozen for about 3 months and are good in the fridge for 3 days;