We just finished the surprise live a few hours ago and it was so much fun, as usual!
Unfortunately, I deleted the live by accident and it's not saved this time… Sorry for that!!
But here it goes the recipe! So easy to make, quick and incredibly delicious!!
WHAT YOU WILL NEED:
for 3-4 people
1 medium cauliflower, chopped or sliced
80ml wine(optional)
3 garlic cloves, sliced
Olive oil to taste
1/2 tsp salt
400ml plant milk
200ml cooking water from the pasta
300-350g pasta
Zests and juice from 1 lemon
1 tsp nutritional yeast
Fresh parsley, chopped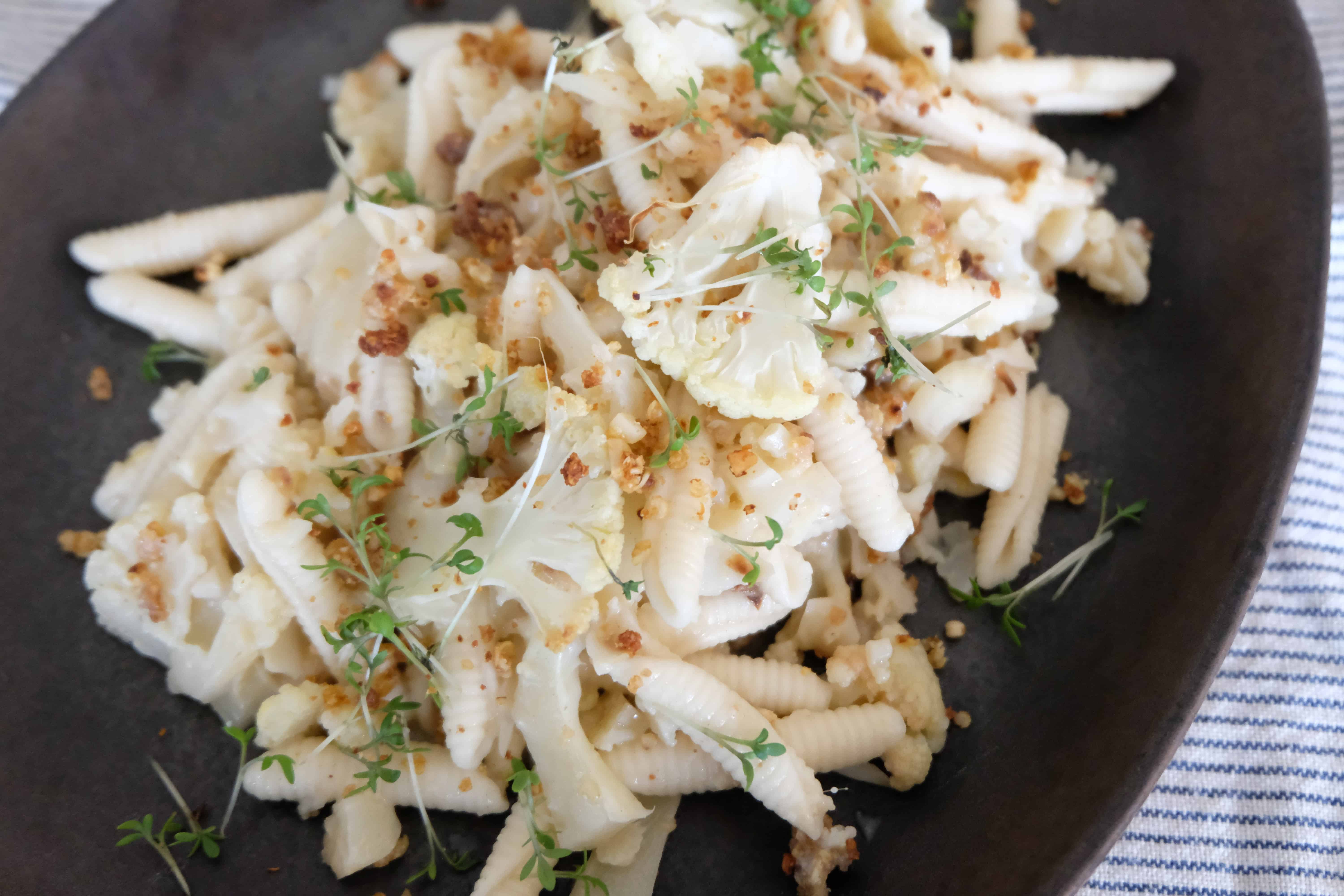 HOW TO:
Roast the sliced cauliflower with a drizzle of olive oil and a pinch of salt for about 15 minutes at 180°C;
Pre-cook the pasta for 2-3 minutes less then the directions from the package, it should be a bit raw inside when you take it out of the oven and rinse in cold water. Save some cooking water for later;
Heat a frying pan with a drizzle of olive oil and fry the garlic for about 1 minute;
Add the roasted cauliflower, the lemon zests and thewine. Bring it to a boil;
Add the plant milk and the salt and let it simmer for about 10 minutes;
Add the pre-cooked pasta and the pasta cooking water, bring it to a boil mixing well and finish cooking for about 4 minutes;
Taste, adjust salt, add some lemon juice, fresh parsley and top it with some vegan parmesan cheese.
Quinoa Parmesan Cheese
WHAT YOU WILL NEED:
¾  Cup Parmesan
1 cup cooked quinoa
1 tbsp olive oil or vegan butter
10 Brazil nuts
¼ cup Nutritional yeast flakes
½ tsp salt
2 tbsp miso paste
HOW TO:
Pulse the nuts in a small food processor until grounded;
Transfer the crumbled nuts to a bowl and mix with the rest of the ingredients;
Roast the in the oven at 170°C for about 10-15 minutes or fry in a non-stick frying pan
Use to top your pasta, gratins and everything else you wish to ass a delicious touch.