HOHOHO! it's Christmas season and nothing better then Christmas Food!!
I created this Lentil Nut Roast as the Star of out Christmas Food Cooking Class and I really think you should try for your veggie Christmas! It's delicious, rich, and juicy like all Christmas food should be!
I Served Mine with the Quinoa Veggie Stuffing and Berry Gravy to complete the presentation our Table Flavor Star.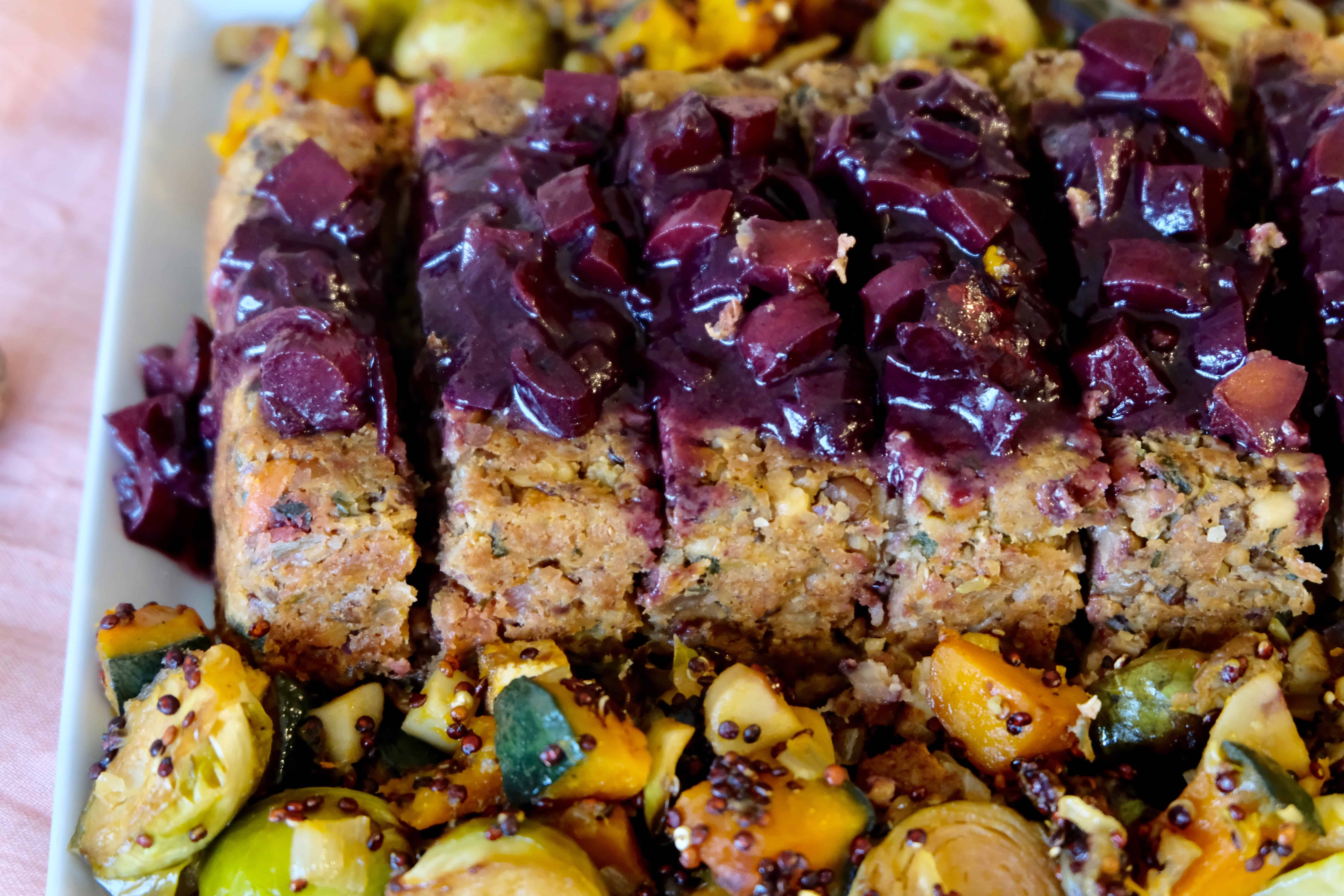 WHAT YOU WILL NEED:
For 1 big portion (4-6 people)
400g cooked lentil
1 carrot, diced
1 parsnip, diced
2- 3 shallots, chopped
1 tablespoon olive oil
2 garlic cloves, mashed
150g chopped mushrooms
2 tablespoons tomato purée
1 cup veggie stock or water
Handful chopped parsley
1 tablespoon ground flax seeds
1 tablespoon fresh sage
1 bay leaves
1/2 to 1 teaspoon salt
100g toasted hazelnuts(whole or crumbled)
50g oats
Berry Gravy:
300g of frozen Blueberries(or 500ml red wine)
1 tablespoon balsamico, just if you use only blueberries
2 carrot, diced
2- 3 shallots, chopped
1 tablespoon olive oil
3 garlic cloves, mashed
1 tablespoon maple syrup
100ml water
100 ml veggie stock
1 tablespoon corn or potato starch
1 bay leaf
½ stick cinnamon
1 star anis
½ teaspoon salt
1 tablespoon grated fresh ginger
HOW TO:
For the Lentil Roast: Heat a large frying pan with the olive oil and fry the onion and garlic with salt until soft and juicy;
Add the chopped mushrooms, bay leaves and sage. Cover then pan and let it simmer for about 10 minutes;
Add the carrots and Parsnips and let it simmer for more 5-10 minutes until soft;
Add the cooked lentil, tomato purée and veggie stock and let it simmer for 5 minutes;
Add the oats , flax seeds and chopped parsley. Turn of the heat;
Add the toasted hazelnuts, mix well and transfer the dough to a baking tray or loaf mold;
Bake for 40 minutes at 180°C.
For the Berry Gravy: Heat a large frying pan with the olive oil and fry the onion, ginger and garlic with salt until soft and juicy;
Add the carrots bay leaf and spices and let it simmer for about 2-3 minutes;
Deglaze with the blueberries + balsamic or wine and let it boil for 1 minute;
Add the veggie stock and let It simmer for 5-10 minutes;
Mix the corn starch with the water and pour the mix into the pan;
Give it a quick boil and it's ready to serve with your Christmas Roast;