If I would be a lazy girl in the kitchen I would have cherry or mixed berries smoothie everyday for breakfast just because I like it so much and its easy to just do the same thing every morning. But to be honest it's always a nice experience to have something different to taste in the morning and the exercise of eating seasonal is great to exercise my creativity. I tried Peach Melba for the first time in 2009, when traveling with my parents in south of France and I it was love since the first bite. If I like it so much, why not trying to recreate those flavours in my  breakfast smoothie? The result was delicious and of course full of the good nutriments that I need to feel good all day long.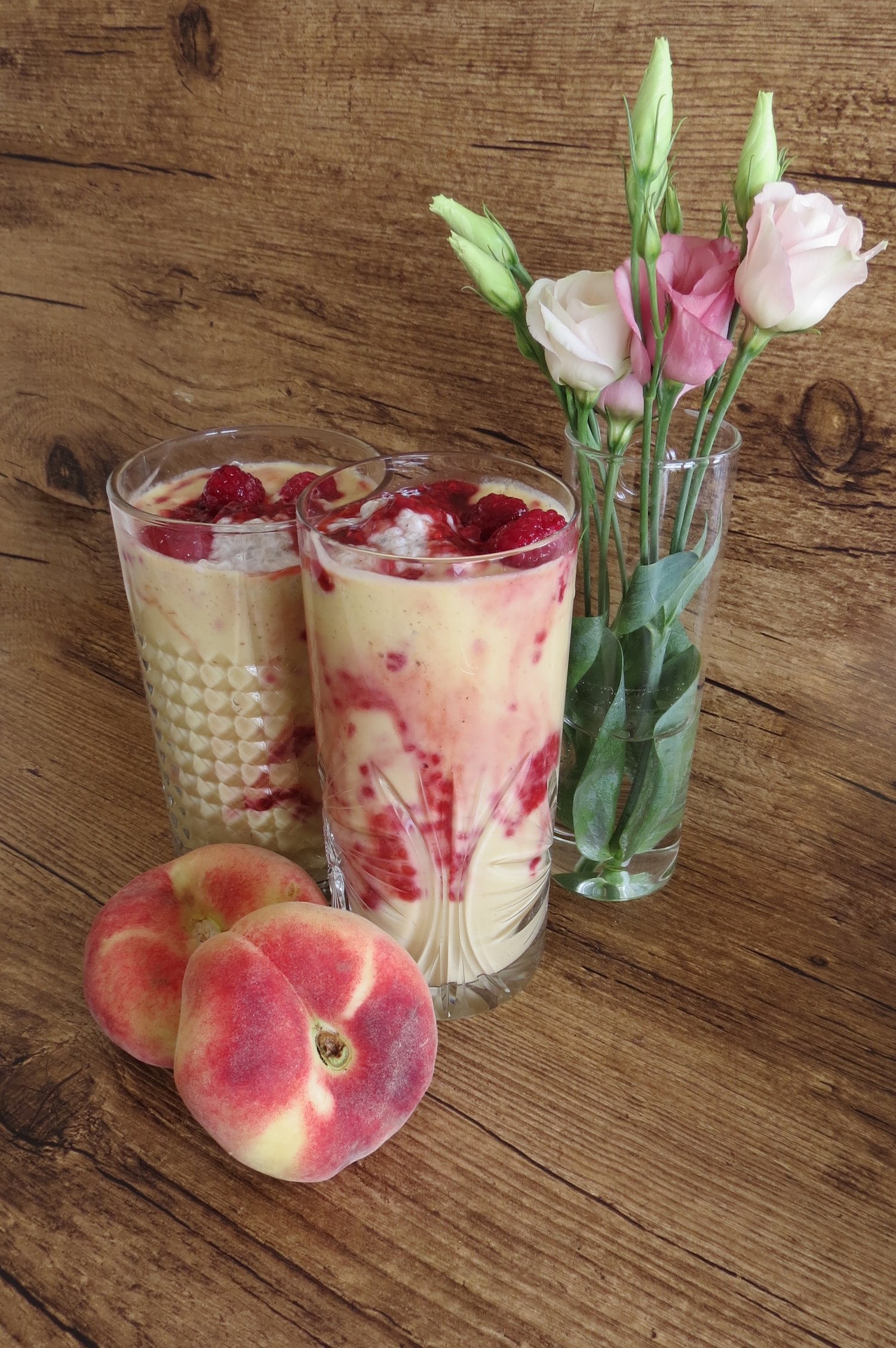 WHAT YOU WILL NEED FOR THE PEACH MELBA SMOOTHIE:
For 2 people
2 peaches
50g avocado
200g yogurt
pinch of vanilla powder
1 tablespoon almond butter (100% almonds, no sugar, no added oil)
HOW TO:
Blend all together in a blender until smooth.
WHAT YOU WILL NEED FOR Raspberry "sauce":
150g raspberry(frozen or fresh)
pinch of salt
1 tablespoon coconut sugar
1 pinch of vanilla powder
HOW TO:
Smash with a fork the raspberries with the other ingredients until it releases the juices but still have some pieces. Pour the smoothie into a glass until half of it. Put 1 tablespoon of raspberry sauce over it and mix with a spoon. Complete the glass with the smoothie and add on the top one more tablespoon of raspberry sauce. Top it with one tablespoon of vanilla chia pudding and a few fresh raspberries, if you would like. Or drink it like it is, it's delicious anyway.
ENJOY!