If you already know me, you also know about my food preferences but I will explain again in case you didn't realized it yet!
I like food in all forms and shapes, I love veggie food even more and I am obsessed with herbs and spices, pumpkin, beetroot, cauliflower, Brussels sprouts, Broccoli and juicy recipes.
I am also Brazilian so this recipe combines everything that I love!
Be aware this is not a traditional curry recipe, it's mild(you can make it more spicy if you would like) and it doesn't require any curry paste or powder.
This recipe is perfect for warmer or colder days, it mixes the freshness from the spices and paprikas and the richness from the warm coconut milk sauce.
Try it out and let me know what you think!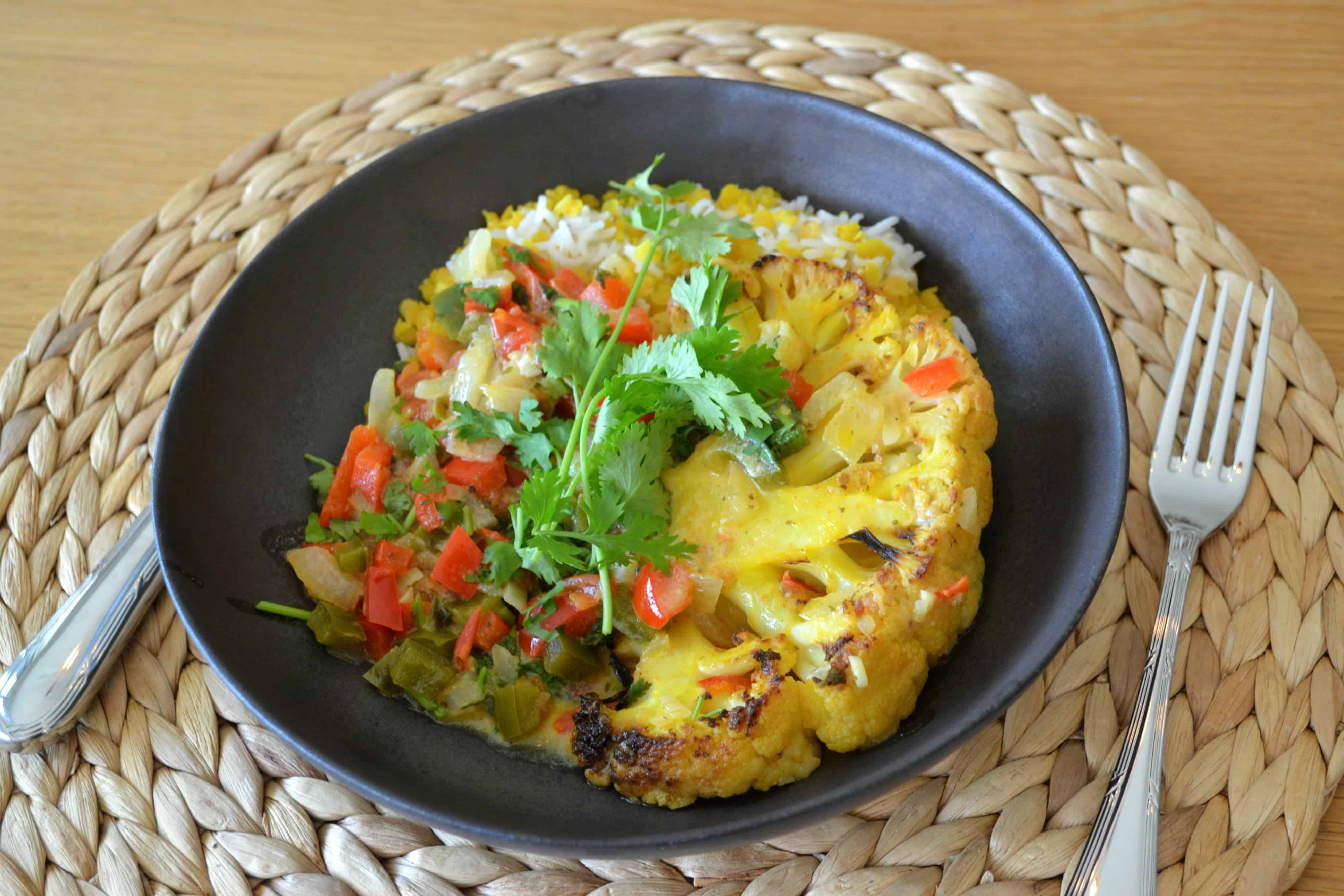 WHAT YOU WILL NEED:
for 3-4 people
1 Whole Raw Cauliflower
1 red bell pepper
1 small green bell pepper
1 small yellow bell pepper
1 or 2 cayenne pepper or thai chilli, deseeded and chopped
2 medium onions
2 garlic cloves
2 medium tomatoes
½ teaspoon curcuma
1 tablespoon olive oil
1 tablespoon orange palm oil(Option but it adds flavor)
½ can coconut milk
1 cup water
1 teaspoon salt
1 handfull chopped parsley
1 Handful chopped coriander
Serve with:
White Jasmin Rice or Black Sticky Rice
Lime Juice
HOW TO:
Soak the split lentils in cold water for minimum 4 hours or overnight;
Chopp the bell Peppers, tomatoes, garlic and onions and keep the onions and garlic in separated bowl;
Slice the Cauliflower in 2 finger thick slices. Don't worry if the slices are not perfect, we just want the "steak" effect for this recipe;
Roast the cauliflower Slices with a drizzle of olive oil and sprinkled curcuma powder and salt for 20 minutes at 180°.
Heat a large low cooking pan (casserole) with the olive oil;
Fry the chopped onion, cayenne pepper and garlic with a pinch of salt in medium heat until they release the juices;
Add the bell peppers and tomatoes to the onions. Cover the pan and let it simmer for for 10 minutes in medium heat;
Add the rinced split lentils to the pan, cover with 1 cup water and let is cook with the lead on for more 10 minutes;
Check if the cauliflower slices are starting to be soft(test with a knife in the center of the "steak") and transfer them to the pan in a way that they don't overlap each other. Add the coconut milk, the fresh herbs on top and let it boil for 30 seconds, turn down the heat to medium and let it cook with the lead on, for about 10 minutes;
Check the softness of the lentils and cauliflower(if too hard, let It cook for longer, if it's good, turn of the heat) and adjust salt and pepper if needed;
Serve it with some rice and a sprinkle of fresh lime juice. Spice sauce is optional but always welcome if you like it spicy;
If you want to make this dish in advance, stop the cooking 5 minutes before and let it cool down before storing in the containers. You can store it in the fridge for 3-5 days and in the freezer for about 3 months.