Delicious cake that make you travel to a  sunny, tropical holiday destinations with just in one bite!
Pineapple filling:
1 medium pineapple
80g coconut sugar (or 100g maple syrup or dates)
1 cinnamon stick
1 Fresh ginger nob
1 star anis
1 clove
Coconut Frosting
120g firm tofu
60g cashews, soaked overnight
¼ cup water
160g sugar
80g coconut butter(or grated dried coconut)
20g grated coconut
Toasted coconut for decoration
Juice from ½ lime
Cake: 
160g flour (or for GF: with 50g rice flour +50g oat flour + 40g almond flour + 20g corn starch)
¼ tsp baking soda
1 tsp baking powder
40g olive oil
30g

 

plant yogurt
55g brown sugar
55g white sugar

 

150g plant milk
Juice from ½ lemon or lime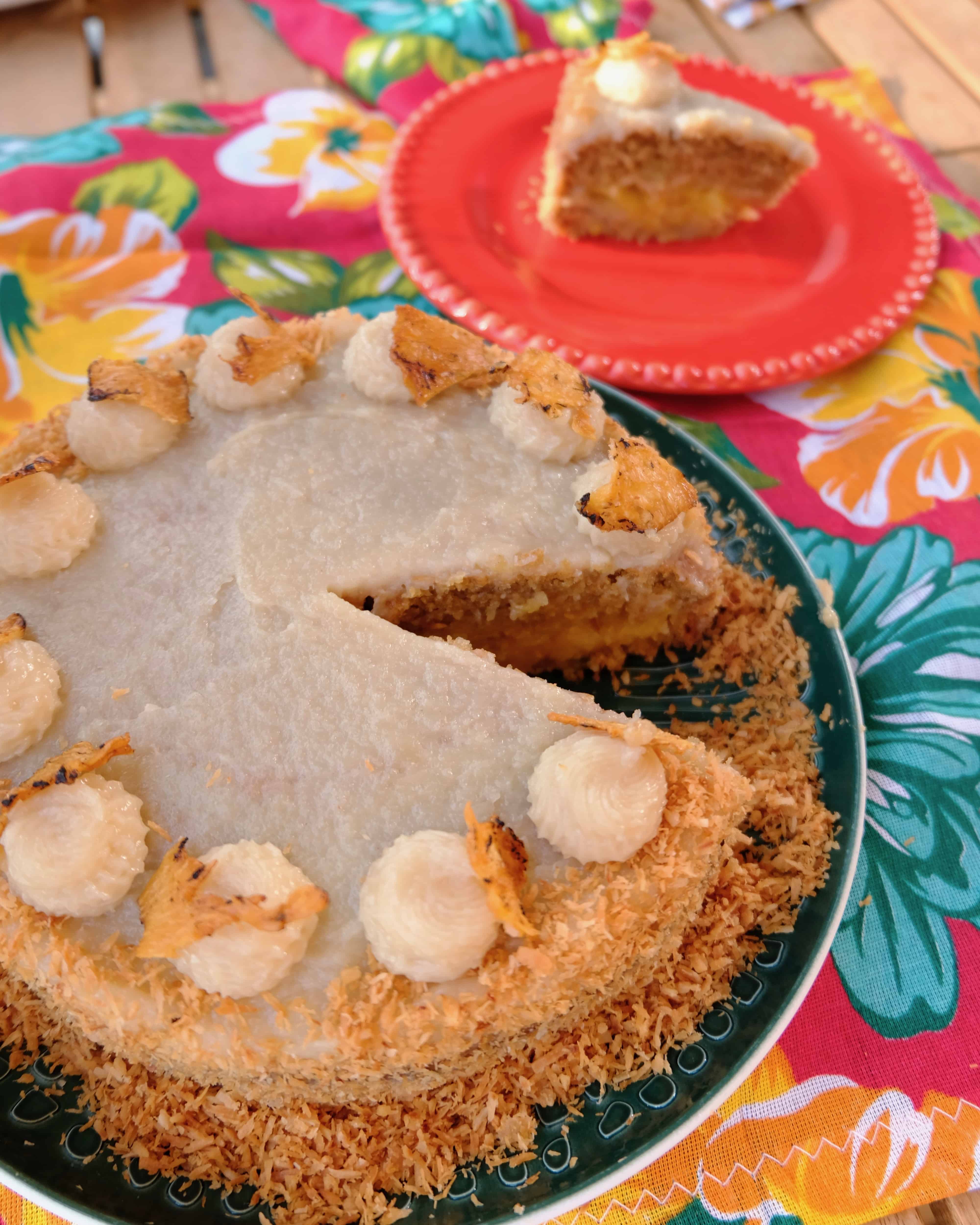 HOW TO: 
Cake: Mix all the ingredients together in a bowl;

 

Transfer the batter to a cake pan and bake it for about 30-35 minutes at 180°C
Pineapple Filling: Cook the chopped pineapple with the cinnamon stick at high heat for about 20 minutes;

 

Add the sugar and let it cook for extra 5 minutes;
Coconut Frosting: Blend the tofu with cashews, water and sugar

 

for about 2 minutes until it becomes a smooth cream;

 

Transfer the cream to a pan with coconut butter and grated coconut. Bring to a boil and let it cook for about 5 minutes, mixing well until it becomes a thick, cream;

 

Finishing: Cut the cake in half after it has cooled down;

 

Fill the cake with the pineapple filling and cover with the coconut cream. Decorate with toasted coconut and some pineapple chunks.