Strawberry Cheesecake! It can't get any better then that!! 
I have not many words to share today, I am just happy to enjoy this sunny dessert welcoming a beautiful weekend!!
What are you baking this weekend?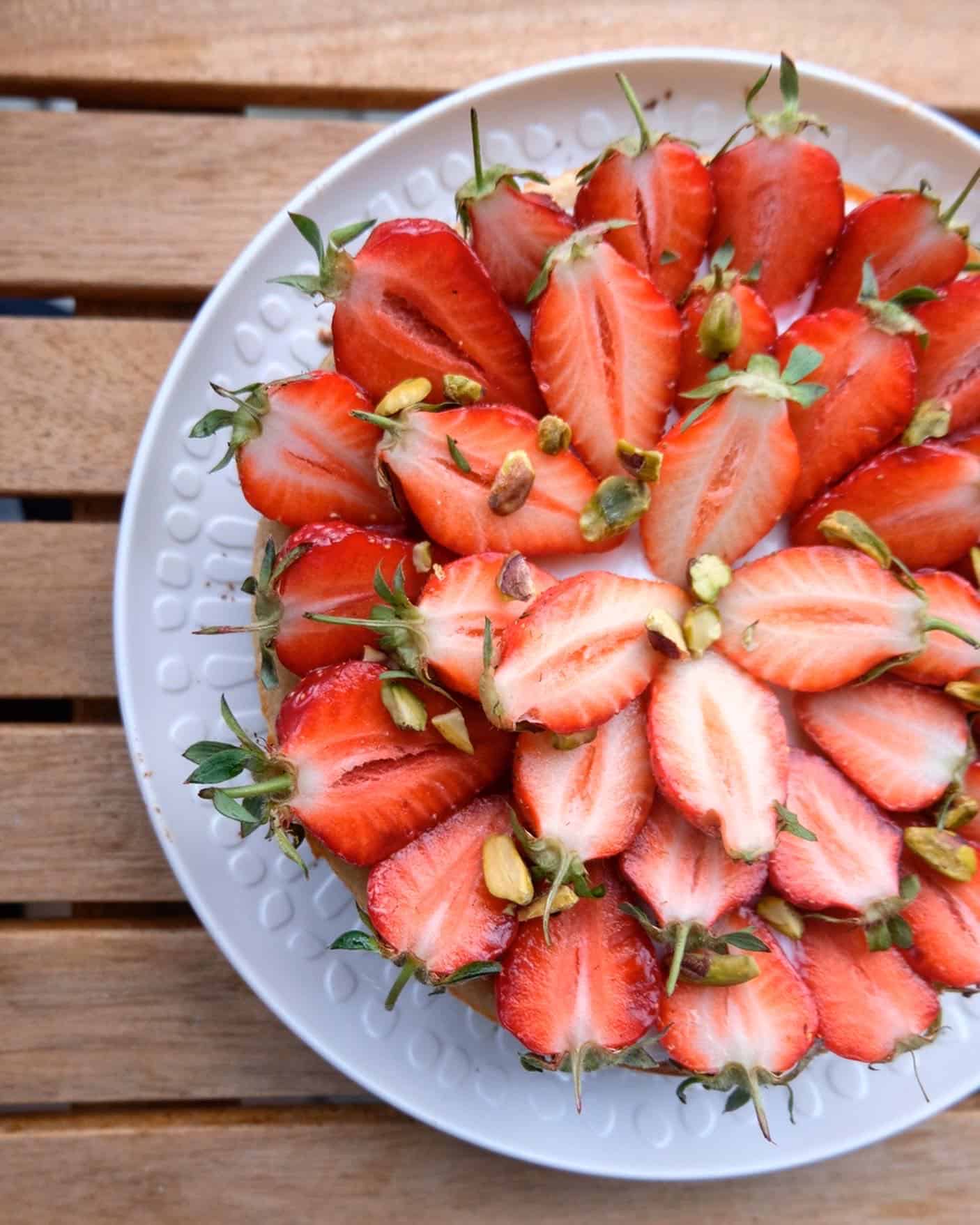 WHAT YOU WILL NEED:
Serves 8 people
Cheesecake: 
150g raw cashews seeds, soaked

 

70g cooked chickpeas
Juice from 1 lemon
Pinch vanilla powder or 1 teaspoon vanilla extract
1 tbsp arrowroot powder (or maizena)
1 tsp chickpea flour
140g maple syrup or 100g white sugar
100ml coconut milk
100g silken tofu
1 pinch of salt
Crust: 
70g oats(or oat flour)
30g almond flour(rice also possible)
2 dates(medjool) or 1 tbsp muscovado sugar
¼ tsp salt
50g coconut oil(or butter if you prefer)
Finishing:
1-2 tbsp Coconut yogurt or cream
Zest of ½ lemon
Fresh strawberries
HOW TO:
Crust: Add all the ingredients for the crust in a small food processor and blend until it becomes a sticky dough, for about 1 minute;
Place the dough in the bottom of a tarte or cake non-stick pan(even better if you use one that open from the side), using your hands to press down the dough, forming a thin, firm layer. Pre Bake the crust for about 10 minutes in pre-heated oven at 180°C;

 

Cheesecake: Blend all the ingredients together for about 2 minutes, until creamy and smooth.

 

Fill the Bre-baked crust with the cheesecake cream and return to the oven at 160°C for about 30-40 minutes, until firm it firm and fluffy in the middle;
Once the cheesecake is baked, take out of the oven, scrap the sides using a thin spatula and let it cool down for about 2 hours;

 

Spread a thin layer of the coconut yogurt and lemon zests over the cheesecake and finish with sliced strawberries

 

Enjoy your dessert time!