I had such great time on the live today! Cooking some vegan Luxembourgish food is a real challenge for me and it was really cool to share this recipe with everyone that watched! 
If you want to learn how to make sweet potato kniddelen, you can watch the lave that is saved for 24h. 
For a traditional vegan kniddelen recipe you can read in the comments. 
WHAT YOU WILL NEED:
for 2-4 people 
250g flour (100g rice flour + 100goat flour + 50g potato starch for GF version)
160g steamed sweet potatoes, peeled(or cooked white beans)
180g plant milk
½ tsp salt
Sauce: 
200g mushrooms, sliced
1 tbsp olive oil
1 tsp miso paste
200g vegan cream

 

1 tsp mustard
1 tbsp Nutritional Yeast
100g white wine
½ tsp salt
Chopped herbs like chiver or parsley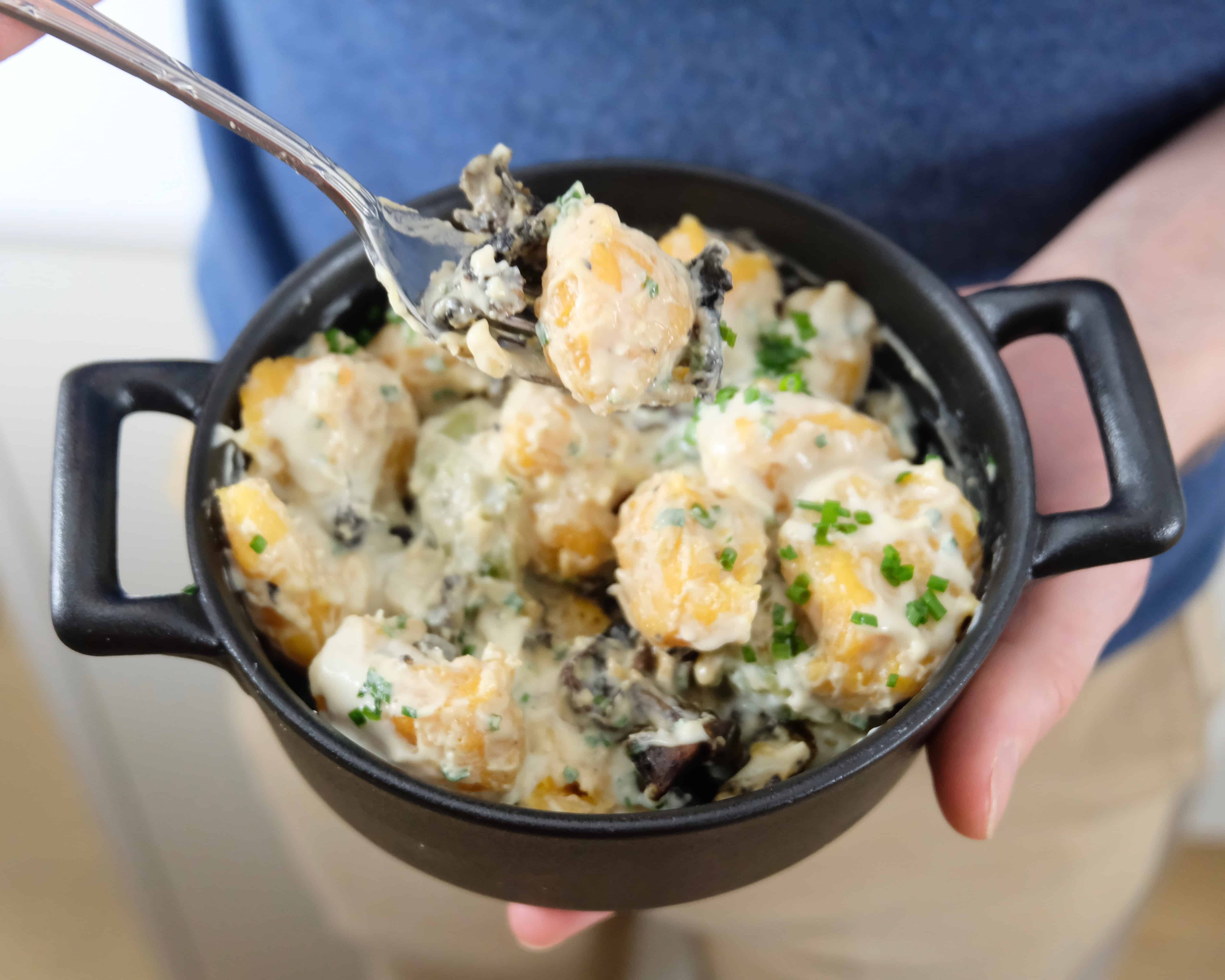 HOW TO:
Pre-heat the oven at 190°C;
Mix all the mushrooms, olive oil and miso paste together with a pinch of salt and roast it for 10 minutes. After 10 minutes turn off the oven and let it inside for another 10 minutes;

 

Kniddelen: Blend the sweet with the milk until creamy and smooth;

 

Mix the sweet potato cream, the flour and salt in a bowl and set aside;

 

Brong water and salt to a boil in a large pan and cook the kniddelen with the help of 2 little spoons, making the dumplings;
Once the kniddelen float, count 2 minutes and take it out of the water;

 

Sauce; Bring the wine to a boil then add the cream, mustard and nutritional yeast and bring it a quick boil;

 

Add the kniddelen, mixing well and add the freshly chopped herbs and dried mushrooms. Adjust salt if needed;

 

Serve warm and enjoy the cozyness!