My absolute fav sandwich! I love everything asian, Vietnamese food is one of my favorites and bread… well, no worlds for this amazing biblic creation. 
The junction of these elements in only recipe could not be better. If you never tried, I strongly advise you to give it a chance and of course let me know after what you think!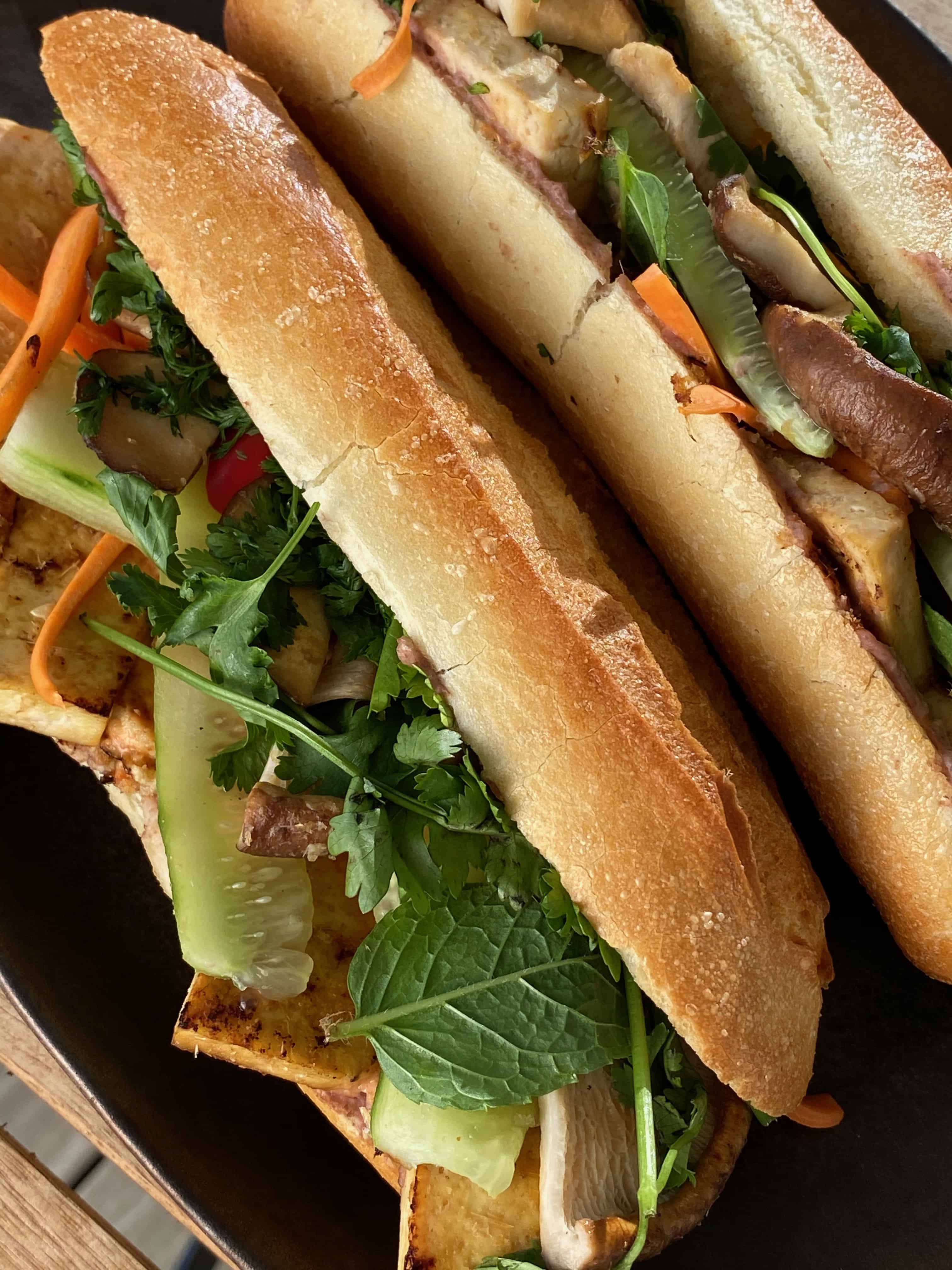 WHAT YOU WILL NEED:
 for 2 sandwiches 
Tofu and shitake Marinade: 
100g tofu
1 lemon grass stalk, grated
1 garlic clove, mashed420g wheat flour(you can use half whole what for some fibers)
3-4 large shitakes
1 tbsp Sesame oil
1 tbsp vegan fish sauce or mushroom sauce or soy sauce
1 tbsp soy sauce
1 tbsp palm sugar
Juice from ½ lime

 
Veggies: 
Carrot Julliene
Sliced cucumber
1 handful of coriander
Optional fresh mint leaves
 Vietnamese Pate: 
1 shallot, shopped
3-4 big mushrooms, diced
¼ teaspoon salt
1 garlic clove, mashed
1 tbsp olive oil
1 tbsp mild miso paste
1 tsp fresh thyme
100g cooked Lentil
40g cashews, soaked overnight
1 tbsp cognac
1 tbsp cooked beetroot
Mayo Spice Sauce: 
¼ cup good Mayo(or any other vegan Mayo)
1- 2 tbsp siracha or hot chilli paste
Sesame oil to taste
Soy sauce to taste
Lime juice
HOW TO:
Tofu: Mix all the ingedients together and let it marinate overnight in the fridge;

 

Fry the tofu sliced and shitakes with the marinate, both sides until crispy and golden. Set aside;
Pate: fry the shallots with garlic and thyme until juicy and soft;

 

Add the mushrooms and let it simmer for about 5-10 minutes;

 

Add the cognac + cooked lentils + misoand let it simmer for 5 minutes;

 

Blend everything with the cashews and beetroot for about 1-2 minutes until creamy. Transfer to a container and keep it in the fridge for about 1 week or freeze in portions for later use;

 

Mayo: Blend all the ingredients together until creamy and smooth;
Finishing: Cut the baguette lengthwise and spread the pate over each slice;

 

Drizzle some spicy mayo over the pate and fill the sandwich with one layer of each ingredient, finishing by the sliced shitakes;

 

Press the top layer of baguette to close the sandwich.