There is a light obsession with celeriac going on here, I have to tell you. I love the hearty sweetness of roasted celeriac and the oat crust makes everything even more delicious, not even to mention the delicious creamy mushroom sauce!
I served mine with a delicious yummy Creamy White Bean Warm Salad but it would be great with anything that you wish. Let me know if you want the recipe for the Creamy Beans also and I promise to post it soon!! 
WHAT YOU WILL NEED:
Serves 2-3 people
1 whole celeriac
1 tablespoon olive oil
Juice from ½ lemon
Salt and pepper
½ cup plant milk(I used almond milk)
3 tablespoons chickpea flour
3 tablespoons rice flour
½ cup oats, grounded slightly

 
Mushroom sauce: 
200g button mushrooms, sliced
1 tablespoon olive oil
1 onion, chopped
1 garlic clove, mashed
1 tablespoon fresh rosemary and thyme
3 tablespoons balsamic vinegar
1 tablespoon corn starch

 

½-1 cup plant milk(depending on how creamy you want your sauce)
1 tablespoon soy sauce
Salt and pepper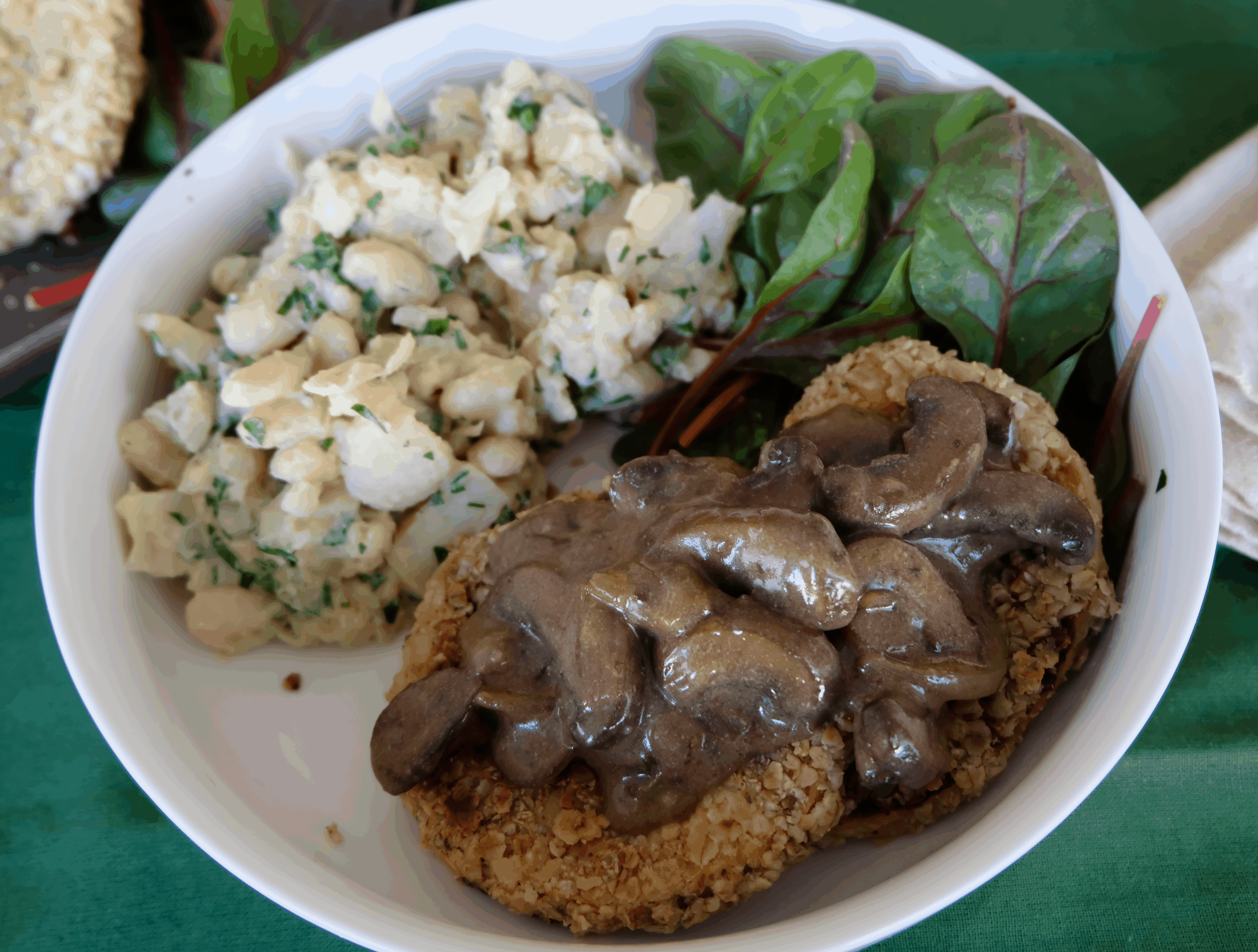 HOW TO:
Pre-heat the oven at 200°C;
Cut the celeriac in one finger thick slices, sprinkle some olive oil, lemon juice, salt and pepper and roast it for 20-30 minutes;
Heat a frying pan with olive oil and fry the garlic and onion with the herbs for 2 minutes. Add the mushrooms with soy sauce and let it fry for 5 minutes. Add the balsamic vinegar, let it boil for 2-3 minutes and add the corn starch and plant milk. Bring to a boil, mixing well and adjust the salt and pepper and set aside;

 

Mix the plant milk and chickpea flour in a small bowl with ¼ teaspoon salt and place the rice flour and oats in two other separated bowls;

 

Let the roasted slices cool down and pass each slice in the rice flour, then the chickpea dough and for the last on the grounded oats;
Drizzle some olive oil in a non-stick frying pan and fry each slice in both sides, until golden brown color;

 

Serve warm with the delicious sauce on top.