Nothing better that this hearty recipe for this typical winter day! 
It takes just a few ingredients that you probably already have in the fridge and not more then 30 minutes and you have a wholesome delicious dinner! 
I used cooked lentils that I have in my freezer for emergencies but canned are also a great option and if you prefer to make the purée in the traditional way, it's also a good option but I have to confess that roasted veggies are always the best! 
WHAT YOU WILL NEED:
Serves 3-4 people
Ragout: 
400g cooked lentils (or 1 can)
250g button mushrooms
1 medium carrot, diced
1 onion, sliced
2 garlic cloves, mashed
1 tbsp thyme
1 tbsp Horsersteishire sauce(or soy sauce)
½ cup chopped canned tomatoes
1 cup plant milk
1 tbsp arrowroot or corn starch

 

1 tbsp olive oil
½ tsp salt
Mash: 
1 celeriac, peeled and diced

 

1 tsp applecider vinegar
1 tbsp olive oil
1 cup plant milk (I used almonds)
½

 

tsp salt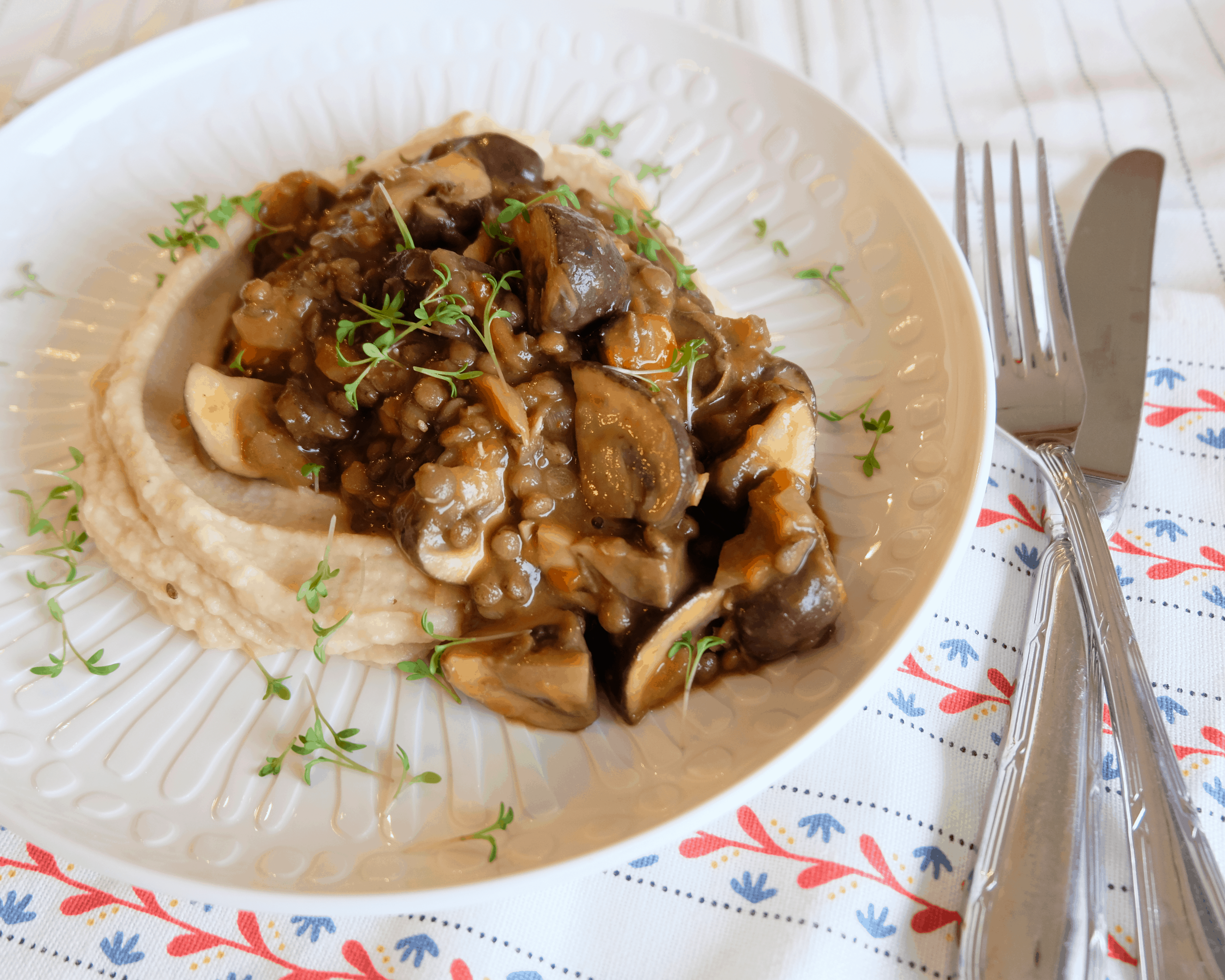 HOW TO:
Mash: Heat the oven at 180°C;

 

Place the celeriac cubes in a baking tray, drizzle some olive oil, salt and vinegar and roast it for about 20-30 minutes;

 

Ragout: Heat a medium pan with a drizzle of olive oil and fry the garlic and onion with a pinch of salt until juicy and soft;

 

Add mushrooms, carrots, thyme and Horshahah sauce and cook it for about 5 minutes at medium heat;

 

Add the tomato and lentils and cook it for about 10 minutes at medium/high heat;

 

Mix the plant milk with the starch and add to pan. Bring it to a boil, adjust salt and pepper and simmer for 2 minutes and set aside;
Finish the Mash: Blent the celeriac with the plant milk until a smooth purée;

 

Add the purée to a pan, adjust salt and pepper and bring it to a boil;

 

Serve the Ragout over the Celeriac Mash;