Naked Ravioli for some, Ricotta Gnocchi for others, this recipe actually is called Gnudi and absolutely delicious! 
I was so happy to veganize this recipe! Always present at my parents weekend meals, food memories that make me feel so happy! A must try for everyone, Italian food simplicity is just made for summer days. 
WHAT YOU WILL NEED:
Serves 2 people
200g tofu
50g cooked white beans(chickpeas or cooked potatoes also work)
1 tsp Nutritional Yeast(optional)
Juice from ½ lemon
200g frozen spinach(or cooked fresh spinach)
1 tsp ground flaxseeds
1 tbsp olive oil
60-90g of flour(depends of the water content of the tofu and spinach) – Also possible to use GF flour mix
½ tsp salt
Ground pepper to taste
Ground nutmeg to taste
Finishing: 
Freshly made tomato sauce
Some fried garlic slices (optional)
Vegan parmesan cheese(optional)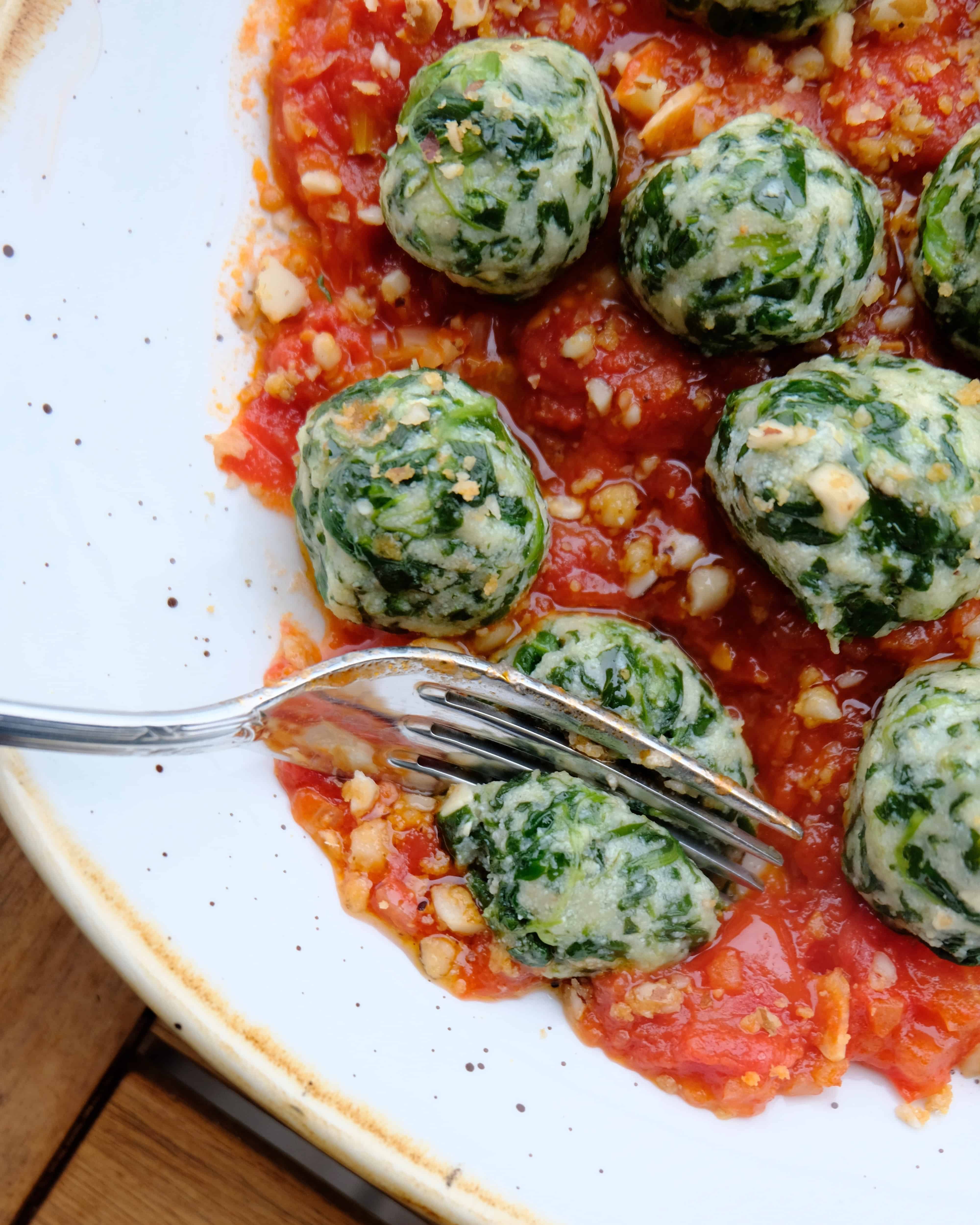 HOW TO:
In a small food processor, blend the tofu + white beans + nutritional yeast + lemon + salt + flaxseeds + olive oil for about 30 seconds to a minute until it becomes a creamy ricotta;

 

Chopp the defrosted cooked spinach;

 

In a large bowl, mix the chopped spinach and the ricotta mixture;

 

Slowly add the flour to the mix, until it reaches a texture that you can easily mold balls with the hands;

 

Cook the Gnudi in salted boiling water like traditional gnocchi( only a few at a time, not boiling too hard);
Serve the Gnudi over a generous bed of tomato sauce, add some fried garlic slices and vegan parmesan cheese on top.