There's no bad weather that survives to this sunny tarte!
I promise you, it's delicious and make you forget about the clouds in the sky. You will only feel the sun warming you up! 
Really easy tarte made with the same empanada dough(a good reason for you to double the recipe), simple vegan ricotta and delicious juicy tomatoes because summer is time for freshness and simplicity! 
WHAT YOU WILL NEED:
for 1 tarte(4-6 people)
Crust: 
100g whole spelt flour
70g cooked white beans
50g neutral coconut oil(or vegan butter)
100ml plant milk(cashew, almond or soy are the best options for this recipe)
½ tsp salt
Filling: 
200g Tofu or almond Ricotta(recipe in the comments)
1 tbsp olive oil
Zest from ½ lemon
Salt and pepper to taste
Crumbled vegan feta(optional)
Fresh thyme
3-4 colored tomatoes, sliced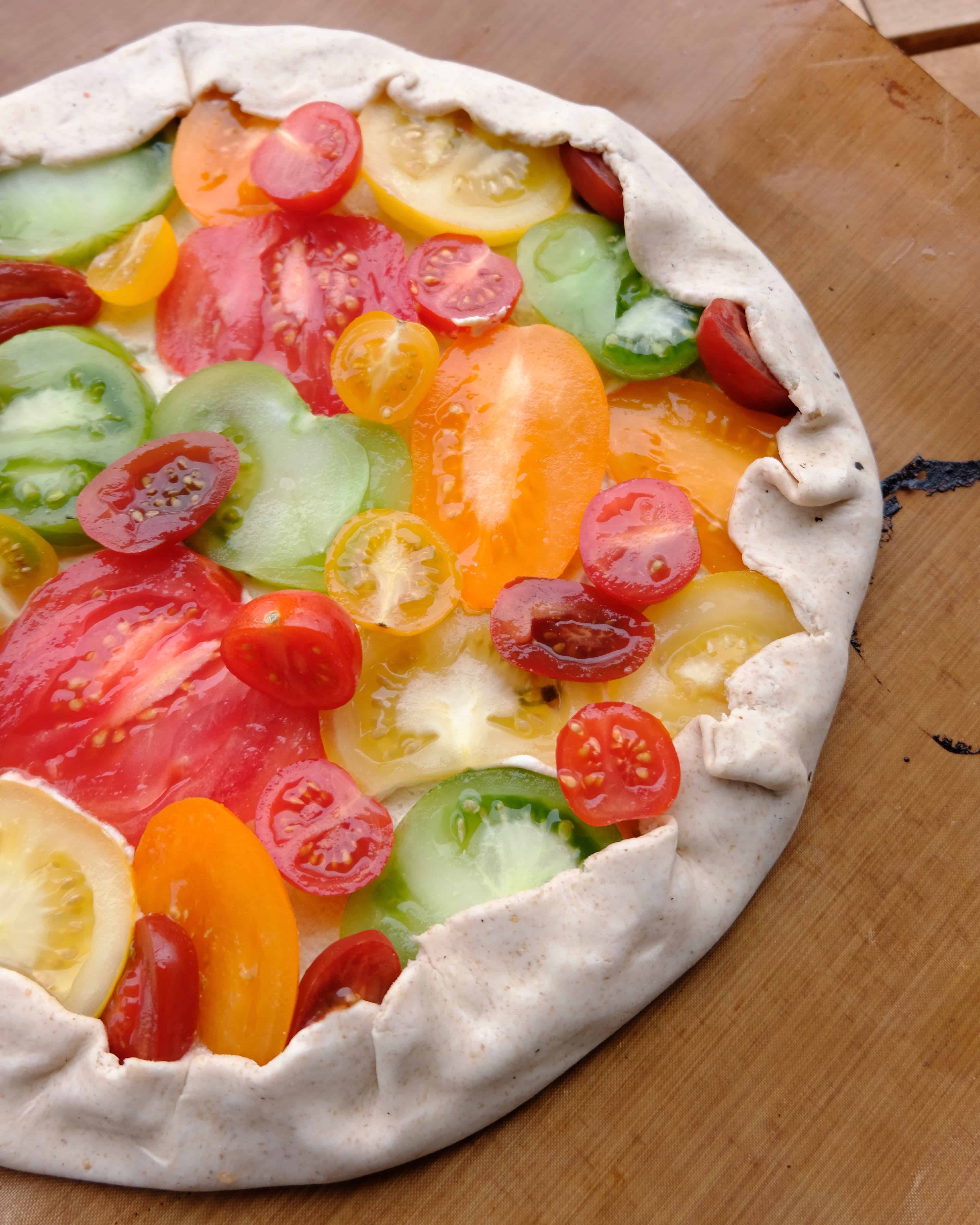 HOW TO:
Blend the cooked beans with the oil and plant milk until it becomes a smooth cream(about 1 minute)
Add the flour to mixing bowl with the salt and mix with the bean cream until it forms a soft dough;

 

Knead the dough with the hand or a stand mixer(hook device) for about 10 minutes;

 

Wrap the dough and let it rest in the fridge for about 2 hours or overnight;
Using a rolling pin, open the dough in a floured surface. It doesn't need to be perfectly round, it's a rustic tart afterall;

 

Tranfer the dough to a baking tray and spread a layer of ricotta, leaving 2 fingers of dough left of the edges without any filling(so you can fold it after). Add the lemon zests and crumbled feta on top of the ricotta. Finish by the sliced tomatoes, fresh thyme leaves, a drizzle of olive oil and salt and pepper to taste;

 

Bake it for about 30 minutes at 190°C;
Enjoy every sunny bite.