Late for a great reason: Relaxing and resting!
After a short break to enjoy the national holidays with hubby, here it is last Sunday recipe!
This is all we need for this warm days, a delicious salad full of yumminess, crunch and freshness! Enjoy!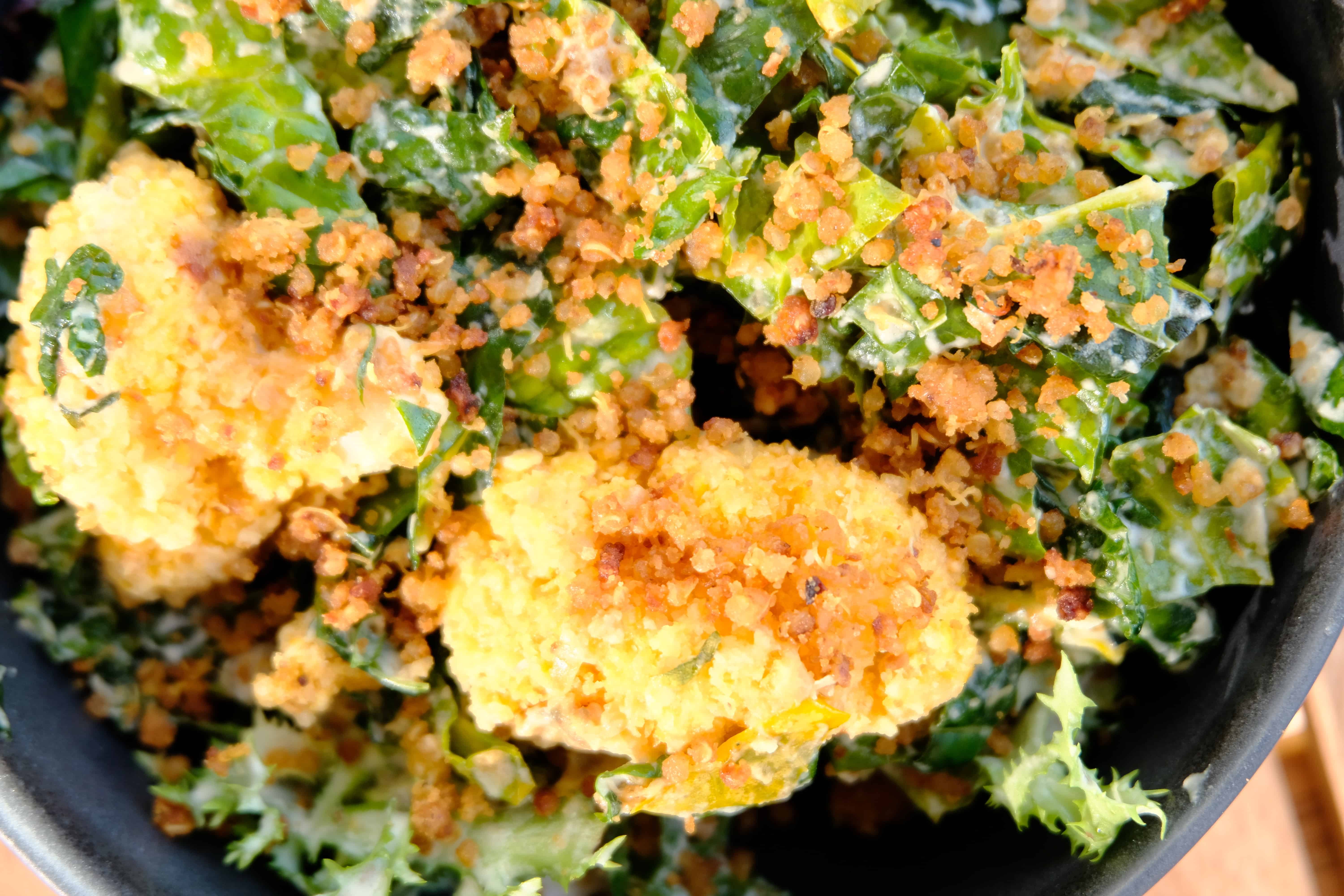 WHAT YOU WILL NEED:
for 3-4 people 
4-5 big handfuls of chopped kale, trimmed and chopped(use romaine for a traditional Caesar salad)
½ cup vegan parmesan cheese(recipe bellow)
Caesar Dressing: 
¼ cup soaked cashews
½ cup steamed cauliflower(you can also use firm tofu instead)
¼ cup olive oil
½ cup water
½ tsp salt
1 tbsp yellow mustard

 

Juice from ½ lemon
3 tbsp capers
Crispy Cauliflower: 
100g chickpea flour

 

150-200ml water
¼ tsp salt
2 cups corn flakes(unsweetened)
½ medium cauliflower or 1 small, in florets or cut in steaks
Quinoa "parmesan"(you can keep In the fridge for about a week)
1 cup cooked quinoa
1 tbsp olive oil or vegan butter
10 Brazil nuts
¼ cup Nutritional yeast flakes
½ tsp salt
2 tbsp miso paste
HOW TO:
Steam or blanch the cauliflower for 3-5 minutes and set aside to coll down;
Mix the chickpea flower, water and salt in bowl and let it sit for 10 min.

 

Process the corn flakes to a powder and transfer to a bowl;

 

Roll the coled cauliflower into the chickpea batter and just after over the corn flakes powder;

 

Bake it at 190°C for about 15 minutes;

 

Quinoa parmesan: Pulse the nuts in a small food processor until grounded;

 

Transfer the crumbled nuts to a bowl and mix with the rest of the ingredients;

 

Roast the in the oven at 170°C for about 15-20 minutes or fry in a non-stick frying pan;
Sauce: Blend all the ingredients in high speed for about 1 minute, until creamy and smooth(optional to add the capers later, just chopped for more texture)
Drizzle some olive oil, salt and lemon juice over the chopped kale and massage it for about 3 minutes until soft. Skip this step if using romaine salad;

 

Mix the sauce in the massaged kale and top it with some crispy cauliflower bites or steak. Sprinkle some quinoa vegan parmesan on top and enjoy the yummy fresh flavours!