Mashed Green Peas Parmentier
New Veggie of the week and we have green Peas. 
This round sweet veggie is many times forgotten or rejected by many and we sometimes forget that all the goodness in this little treasure! 
First recipe of the week is a great solution for a quick dinner, you can also change the filling and use any veggie of preference for this yummi meal!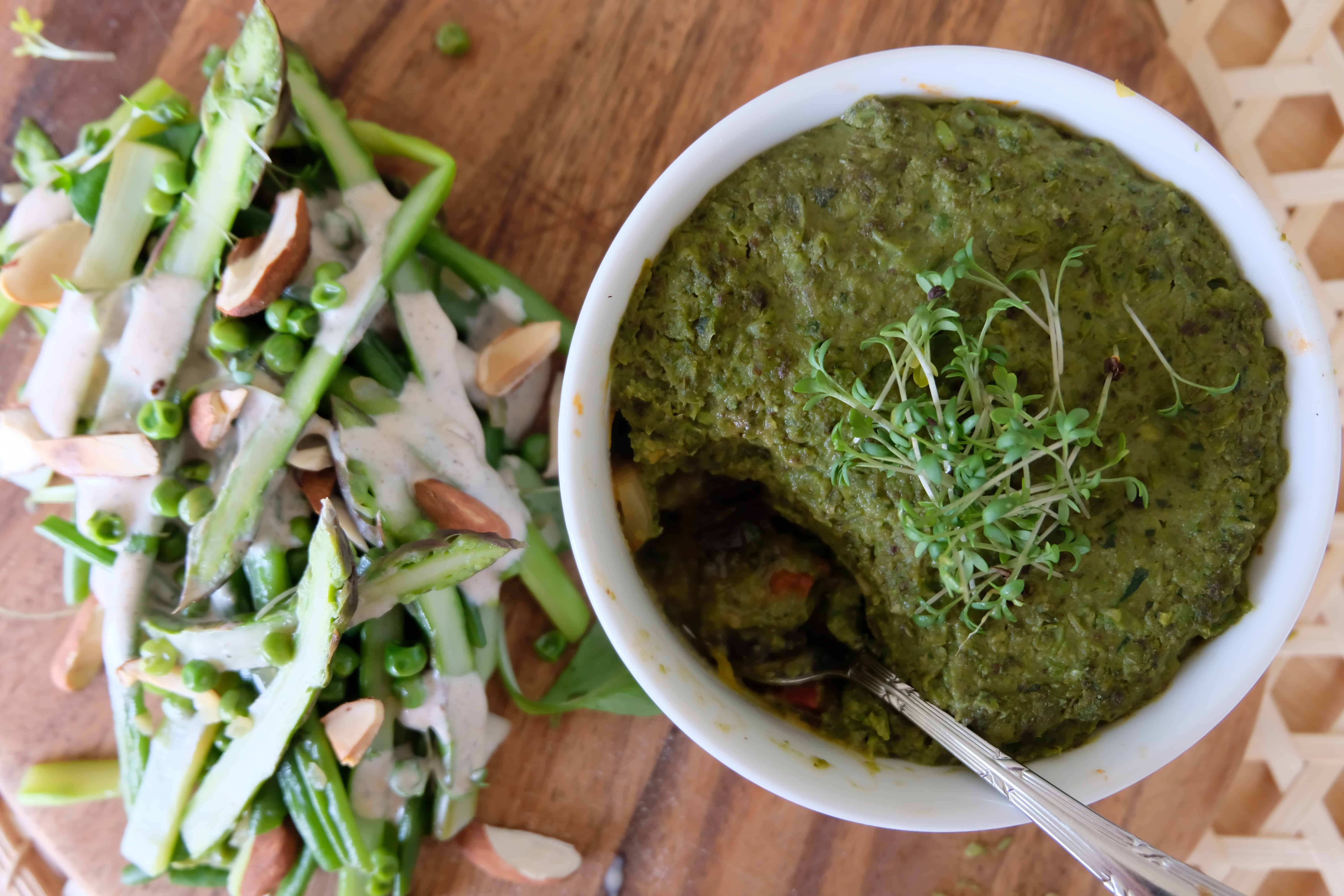 WHAT YOU WILL NEED:
Serves 3-4 people
2 eggplants, in cubes
1 zucchini, in cubes
1 onion, chopped
2 garlic cloves, mashed
1 red paprika, in cubes
1 can peeled tomatoes

 

1 teaspoon salt
Juice from 1 orange(or chopped fresh orange)
1-2 tbsp olive oil
½ cup plant milk
Handful chopped fresh parsley and coriander
Mashed Pea Crust: 
2 cups fresh or frozen peas, boiled
1 cup plant milk
1 handfull chopped mint
1 tbsp chickpea flour(oat or rice also work)
1tbsp grounded flaxseeds
Pinch of black salt
1 teaspoon salt
HOW TO:
Mix all the raw vegetables together with the salt and olive oil. Transfer the veggies to a baking tray and roast it for 20 minutes at 180°C;

 

Open the oven, add the canned tomatoes, plant milk, orange and let ir roast for more 20-30 minutes;

 

Add the chopped herbs and set aside;
Mashed Pea Crust: Using a hand immersion mixer, mix the peas with the mint, salt and plant milk, until desired texture(some prefer smooth, others more chunky) then add the rest of the ingrediets with a spatula;

 

Place one tick layer of roasted veggies in one big ramequin or 4 small. Spread the mashed peas on top and bake it for 15 minutes at 180°C;

 

It's ready to serve! I served mine with some asparagus and peas salad and toasted almonds