ROASTED GARLIC AND BUCKWHEAT BISCUITS
First garlic week recipe is here for you to enjoy your holiday in the best way possible: Enjoying good food!! 
This week Garlic will be the star of our recipes and I hope you enjoy as much as I did! Garlic can be so powerful but also so sweet and comforting, even better when caramelized or roasted! 
I served this amazing garlic biscuits with some vegan ricotta and mapple syrup.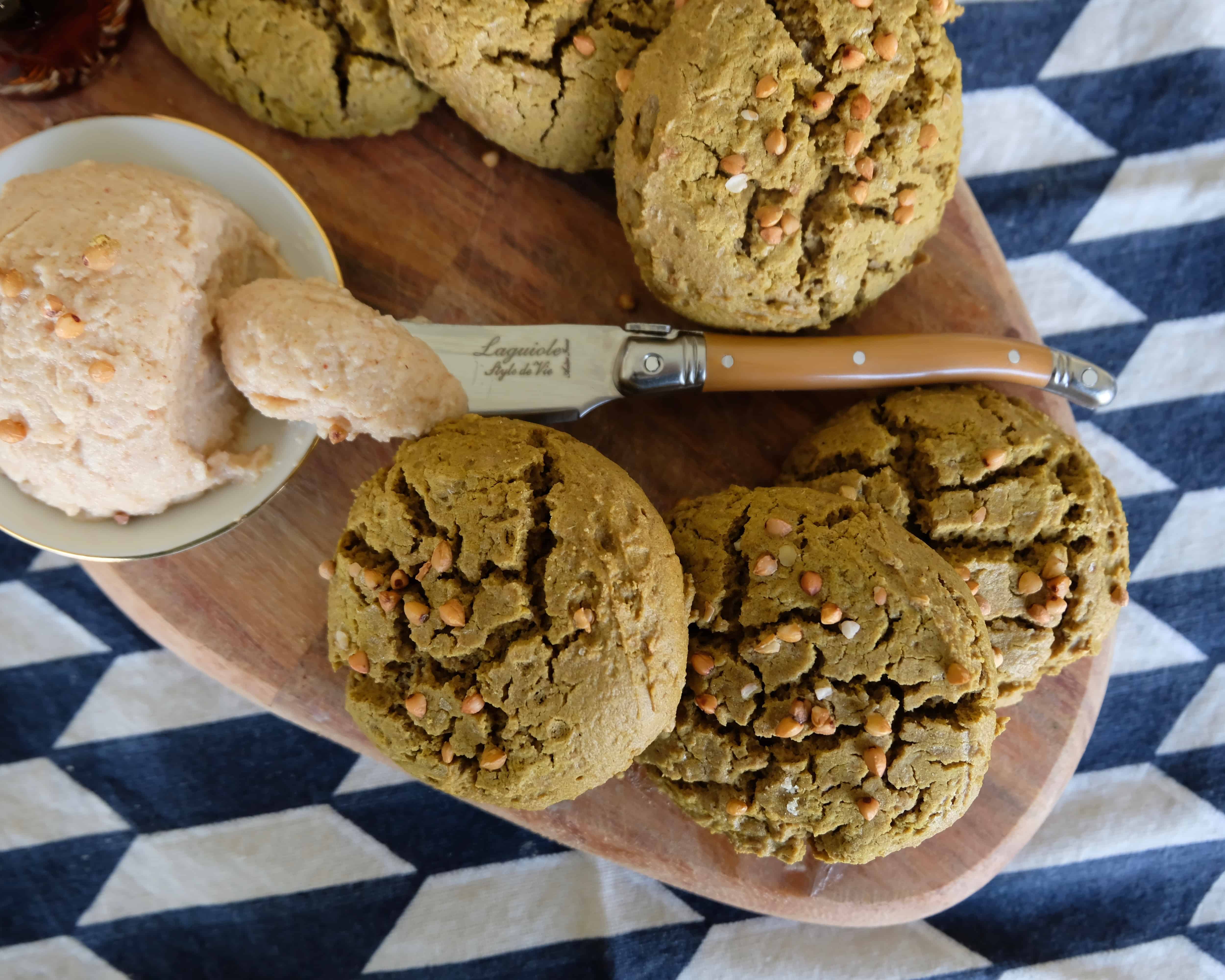 WHAT YOU WILL NEED:
for 6-8 people 
1 cup (250ml) plant milk
1tbsp applecider vinegar
140g buckwheat flour(or oat flour)
100g rice flour

 

40g corn or tapiocastarch
10g nutritional yeast
½ tsp baking soda
1 tbsp baking powder
1/2 tsp salt
30g coconut oil
20g olive oil
7-8 roasted or caramelized garlic cloves, mashed(you can also use black garlic)
1 handful of chopped herbs, I chose chives and rosemary but parsley or thyme would also work.

 
Brushing: 
1 tbsp olive oil
2 tbsp plant milk
2 tbsp buckwheat or seeds groats
HOW TO:
Roast the garlic cloves(with skin) for about 20 minutes at 180°C. Let it cool down and scrap the soft roasted garlic from the skin;

 

Mix the flours with the oils, salt and mashed roasted garlic until it reaches a sand texture;

 

Add the almond milk, slowly until it becomes a moldable dough, not to sticky but not too dry;

 

Add the herbs, baking powder and soda and mix well to incorporate everything;

 

Divide the dough in 12-16 small pieces;
Form balls with the dough pieces, usin the hands or a spoon. Brush each biscuit and top it with some buckwheat or mixed seeds;

 

Bake it for about 20 minutes at 180°C until it start to take some golden colour;

 

It's Ready to serve with your favorite spreads or as a side to amazing veggie soup;