The really late easter treat or just a good recipe for spring days when we just crave the perfect combination of strawberry and chocolate!!

Not many words needed, just enjoy it!!
WHAT YOU WILL NEED:
Serves 6-8 people
Filling 1: 
150g raw cashews seeds, soaked

 

90g cooked taro root(sweet potato, pumpkin or cooked chickpeas also works)
100g strawberries

 

Pinch vanilla powder or 1 teaspoon vanilla extract
1 tbsp arrowroot powder
140g maple syrup

 

1 tbsp cashew or almond butter
100ml coconut milk
100g plant milk or silken tofu
1 pinch of salt
Chopped strawberries(optional)
Crust: 
70g oats(or oat flour)
30g almond flour(rice also possible)
1 tbsp cocoa powder
2 dates(medjool) or 1 tbsp muscovado sugar
¼ tsp salt
50g coconut oil(or butter if you prefer)
2-3 tbsp plant milk
CHOCOLATE CREAM: 
125G LAIT
80G NUTTELA or almond butter
150g CHOCOLATE 70%
2 tbsp icing sugar
1 tbsp maizena or arrowroot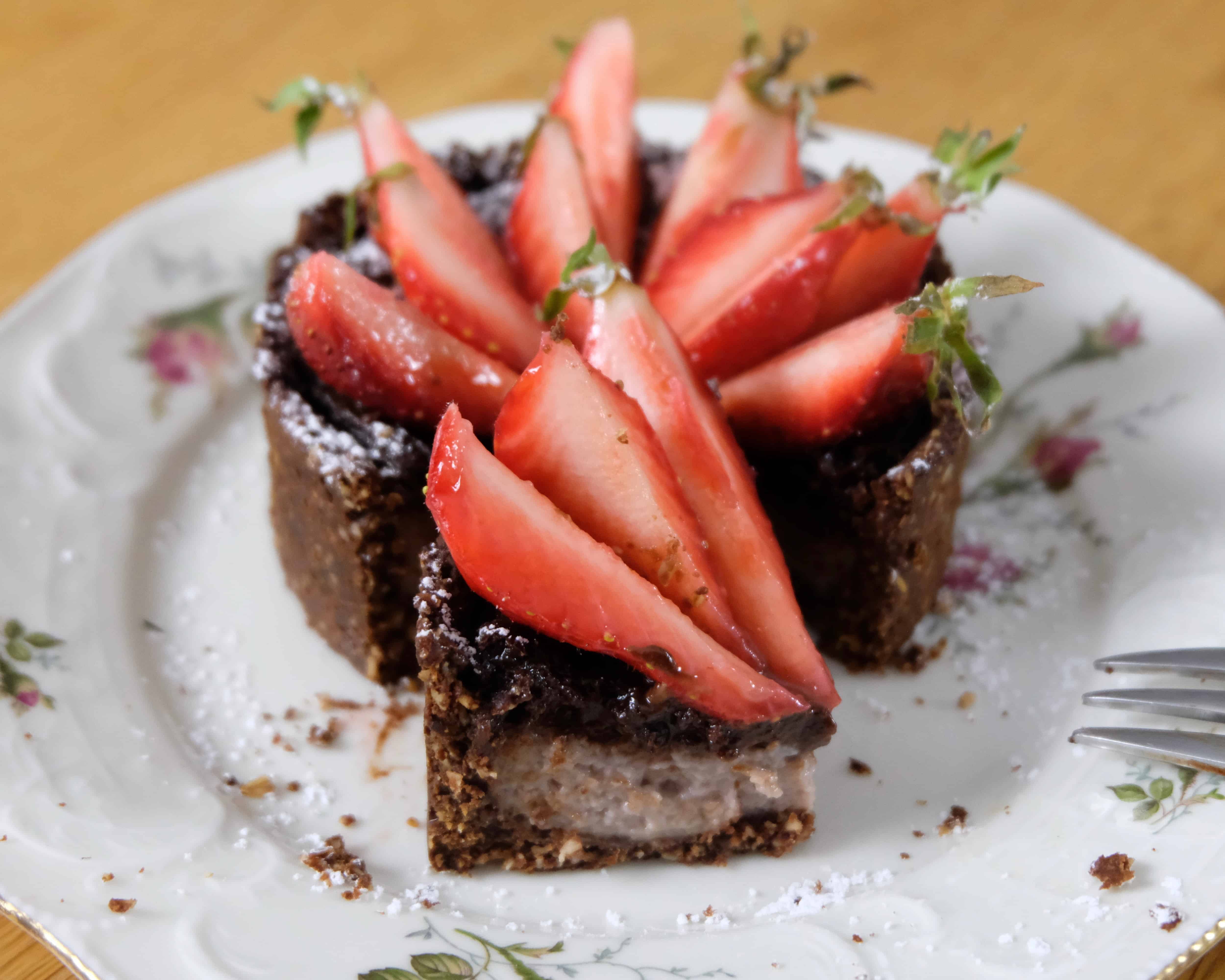 HOW TO:
Crust: Add all the ingredients for the crust in a small food processor and blend until it becomes a sticky dough, for about 1 minute;
Place the dough in the bottom of a tarte or cake non-stick pan(even better if you use one that open from the side), using your hands to press down the dough, forming a thin, firm layer. Pre Bake the crust for about 10 minutes in pre-heated oven at 180°C;

 

Strawberry filling: Blend all the ingredients(MINUS THE CHOPPES STRAWBERRIES) together for about 2 minutes, until creamy and smooth. Mix the chopped strawberries in the batter and fill the Bre-baked crust with the cream. Return to the oven at 160°C for about 20 minutes, until firm it firm and fluffy in the middle;
Chocolate Filling: Boil the milk and pour over the chocolate;
Whisk until it becomes shiny;

 

Add the rest of the ingredients, slowly;

 

Pour over the strawberry filling. Pre-heat the oven at 180°C, place it in the oven and turn off the oven(yes!). Leave-it inside for about 10-15 minutes until the top starts to look firm(like a cake);

 

Take out of the oven and let it cool down for about 30 minutes before decorating it with some freshly chopped strawberries.

 

Enjoy!!