Another Brazilian influenced recipe in your timeline. 
I love beans and that's not news here!  But I like to change the way I eat my daily beans. The good thing is beans are versatile and delicious in every single different way we can cook them! 
This Balls are so delicious and so full of flavor and punch that I had trouble to name it. It's unique in flavors and textures, please give it a try! 
WHAT YOU WILL NEED:
for 3-4 people
400g cooked black beans

 

200g cooked white rice(I used long grain)
50g chopped smoked tofu(optional but add extra flavor)
½ -1 tsp salt
2 medium onion, sliced
3 garlic cloves, sliced
4-5 kale leaves, chopped
1 handfull Parsley and coriander, chopped
¼ Hokkaido or potimarron pumpkin, in cubes
Juice from ½ orange
2-3 tablespoons olive oil
Coriander Sauce: 
100g avocado
2 handfuls fresh coriander
¼ onion
1 garlic clove
Juice from 1/2 lime
2 tbsp olive oil
1-2 green chilli, deseeded(optional)
¼ cup water
½ tsp salt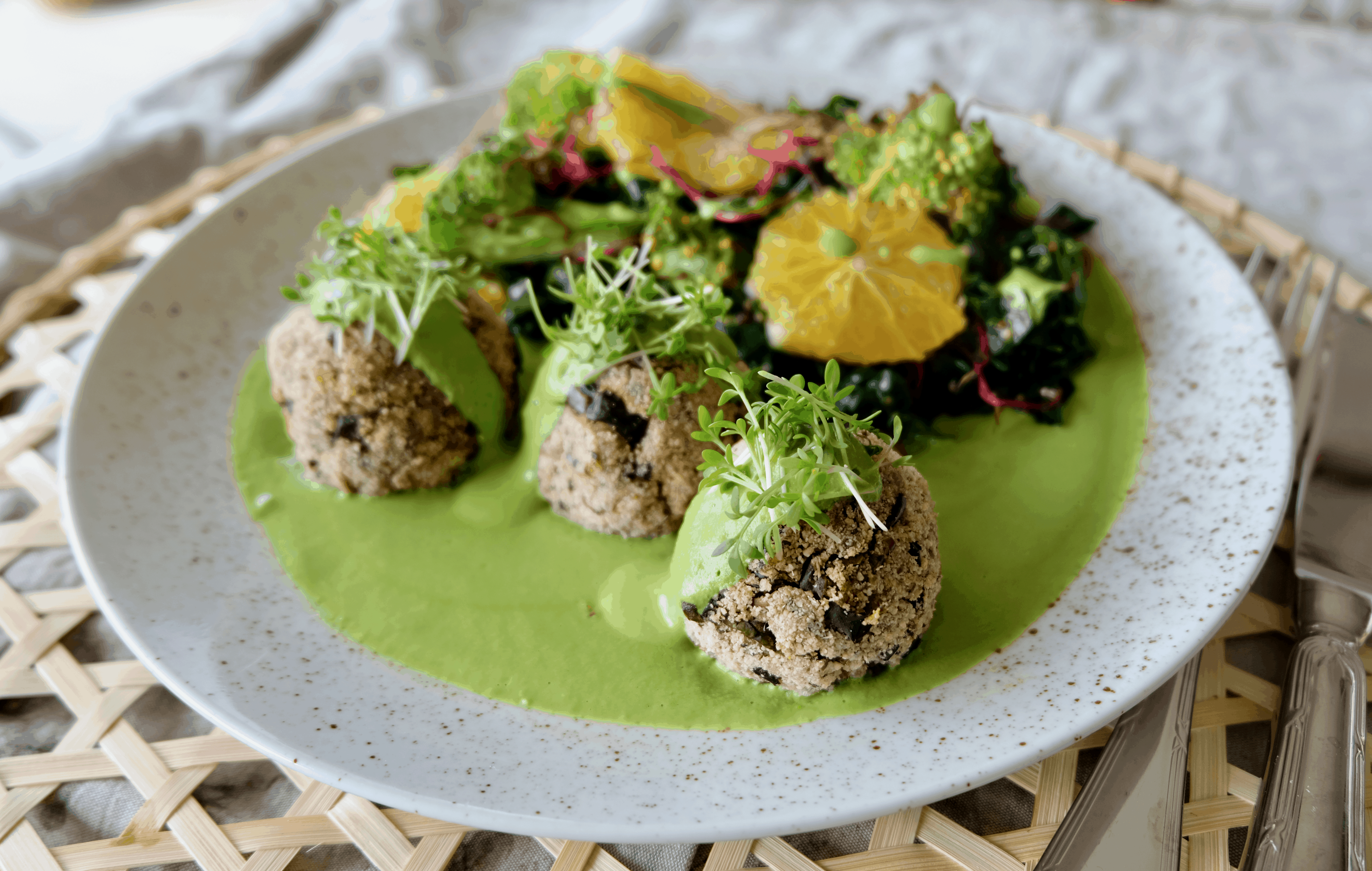 HOW TO:
Roast the pumpkin cubes with 1 tbsp of olive oil, orange juice and a pinch of salt for about 15 minutes at 190°C until soft in the middle and slighty golden on the edges;

 

Meanwhile, heat a frying pan with 1 tbsp of olive oil and fry the onion and garlic until juicy and soft;

 

Add the chopped kale and smoked tofu and fry for 2 minutes with a pinch of salt and set aside;

 

In a food processor, blend the cooked rice and beans with the salt for 1 minutes at medium speed until it becomes a thick paste but still has some pieces inside;

 

Mix the beans mixture to fried veggies and mold small balls filled with one cube of pumpkin;

 

Place the balls in a baking tray and drizzle some olive oil on top;

 

Bake it for about 15-20 minutes at 180°C;
Sauce: Blend all the ingredients in a high speed blender for 1 minute;
I Served mines with a kale and orange salad with coriander creamy sauce.